Wir stellen sehr hohe Anforderungen an Qualität und deshalb wurde unser Betrieb im Oktober 1996 ISO 9002 zertifiziert. Im Jahre 2006 haben wir unser goldenes Zertifikat empfangen und auf 12. November 2017 sind wir nochmals für ISO 9001:2015 zertifiziert worden. Hierdurch können wir unsere Kunden, sowohl in puncto Service als auch in der Produktlieferung, Qualität versichern.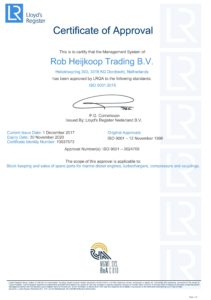 Falls gewünscht können für instandgesetzte und neue Ersatzteile Klassen Zertifikate erstellt werden, wenn die Teile bereits einen Zertifikatsstempel haben.
Diese Zertifikate werden ausgegeben von:
ABS (American Bureau of Shipping)
BV (Bureau Veritas)
DNV (Det Norske Veritas)
GL (Germanische Lloyd)
LRS (Lloyds Register of Shipping)
As per March 2013 we have been granted the status of Know Consignor. This means extra check the safety of consignment that will be send by airfreight especially the contents of the consignment in order to prevent access by unauthorized people tampering the content of package. Our registration number is NL/KC/00424-00/0218.
In order to be able to know wether you consignment remained unopened between shipping and arrival we attache a Safety Seal (see picture).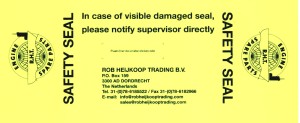 If this seal is broken or missing on arrival you must contact your forwarder.
Our staff carefully check, photograph and pack all goods and shipments without exception. We also arrange sea, air and road transport for your orders. All our wooden or plywood boxes are manufactured according ISPM15 specification in order to guarantee a problem free global transport.